Revenue Generating Uses of the Florist One API
The Florist One® API is the world's first API that can be used to sell florist delivered flowers completely inside any website including Facebook, dating websites, mobile applications and more.
The annual revenue of the US retail florist industry is over $6.6 Billion dollars. Flower sales are increasingly originating from the internet - but online flower sales are still limited to florist websites.

The Florist One® API changes this by allowing flowers to be purchased in storefronts on any website or application. Sending flowers now moves beyond a florist website and unfolds naturally as we move and interact across the internet. A commission of 20% is paid on flower sales through the API which creates new and huge opportunities for flowers to be offered where they could not be offered before.
Facebook Applications

Any Facebook application can use the Florist One® API to let Facebook users send each other flowers inside Facebook. Flowers are sent without the sender having to know the recipient's delivery address through a system we call 'double-blind'.
Dating Websites
The Florist One® API can also be used by dating websites to create flower storefronts inside their websites where members can send each other real flowers. A 'double-blind' system is used - the sender does not know the recipient's delivery address. The sender and the recipient never have to leave the dating website to send or accept flowers.
Mobile Applications
Real, florist-delivered flowers have been slow to move to the mobile space. Huge opportunities exist. The Florist One® API let's flowers to be offered through mobile applications.
The Florist One® API can be used to create new mobile applications that exclusively sell flowers, or it can be used to add a flower storefronts to existing mobile applications, thereby creating a new revenue streams for these existing applications.
Corporations and Organizations
Many corporations routinely send flowers as part of their business to employees, clients and partners. The Florist One® API can be used to cut corporation flower expenses by 20%.
Savings to Flower Buyers
Any group or organization can use our API to pass on huge savings on flowers to their members. For example, an organization such as an automobile association can help their members save on florist-delivered flowers. Part of the 20% commission can be kept by the automobile association which makes it a win for the both the association and the association's members.
The People's Flower Network is a site that we, Florist One®, built for ourselves using the Florist One® API. This is an example of a site which chooses to pass some of the savings back to flower buyers while earning commissions for the creators of the site. In this case, savings to flower buyers are tied to a viral mechanism which helps drive flower sales.
Funeral Homes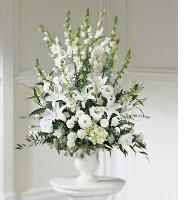 The Florist One® API can be used by funeral home operators to offer flowers through their funeral home's website. This is a huge, missed revenue opportunity for most funeral homes.
Many visitors to funeral home websites visit the funeral home website for the sole purpose of sending flowers to a service being held there. Website visitors often have to hit the 'Back Button' because no flowers are offered on funeral home websites and they are left to look elsewhere.
Funeral homes can now offer flowers directly from their website, earn a 20% commission on every sale, and help their website visitors find what they are looking for. Flowers are delivered by local florists. Since we take care of every aspect of customer service and order fulfillment, this is an easy and significant income stream for funeral homes.
Coupon Websites
Coupon and deal websites that offer flowers can use the Florist One® API to offer savings on flowers on their own websites. The coupon websites gain more control of both the discounts they offer flower buyers and their own revenue streams. With a 20% commission that can be divided between the consumer and themselves, they have plenty of room to keep everyone happy.
Charities and Non-Proifts

Charities and non-profits can use the Florist One® API to add flower buying functionality to their website giving their supporters a way to send flowers and also raise money for a good cause.
Flower Buying Changes, New Opportunities Are Created
The Florist One® API changes flower buying in fundamental ways. Flowers will no longer just be sold on florist websites - we will be able to buy and send florist-delivered flowers as we move across the internet.
Opportunites have been created for websites and applications to offer florist-delivered flowers where they could not be sold before. A 20% commission is paid on flower sales and we handle every aspect of customer service and order fulfillment. The Florist One® API creates many new and huge revenue generating opportunites by letting flowers be sold anywhere.