Florist One Affiliate Program for Funeral Homes
Funeral Flowers Made Easy
Florist One specializes in flower solutions for funeral homes. We make it easy for your funeral home to offer flowers on your website and get paid commissions on flower sales. In the 20 years we've been in business, we've been trusted by 2,000 funeral homes as their flower provider, or 10% of the funeral market.
The Florist One Affiliate Program pays your funeral home a 20% commission on flower sales from your website. Fresh flowers are hand-delivered by a local florist. We work with 15,000 local florists and you can choose the local florist making the delivery. Florist One handles every aspect of flower delivery and Customer Service. We track sales and send you montly commission checks.
The Florist One Affiliate Program is free to join and there is no obligation to use us once you've signed up.
A Flower Solution That is Right for Your Funeral Home
We have a variety of solutions to quickly and easily integrate flower sales into your funeral home website. Our solutions vary from complete obituary systems, to flower storefronts, to link solutions.
All our solutions are free and we will install them for you if needed.
The type of solution you use for your funeral home depends on your needs and how your website is setup. We will explain these different options, but the best way to find the right solution is to contact us so we can understand your situation.
Flower Solution #1 - Obituaries With Flower Sales
Do you need an obituary system for your website or does your current obituaries need to be updated to a modern solution?
FHW Solutions is an obituary company created and owned by Florist One that gives you free obitauries with integrated flower sales and commissions. FHW Solutions offers Obituary Assitant that let you easily and add and manage obituaries on your website and those obituaries comes with a built in flower module that generate revenue. Obituary Assitant is used my more than 150 funeral homes.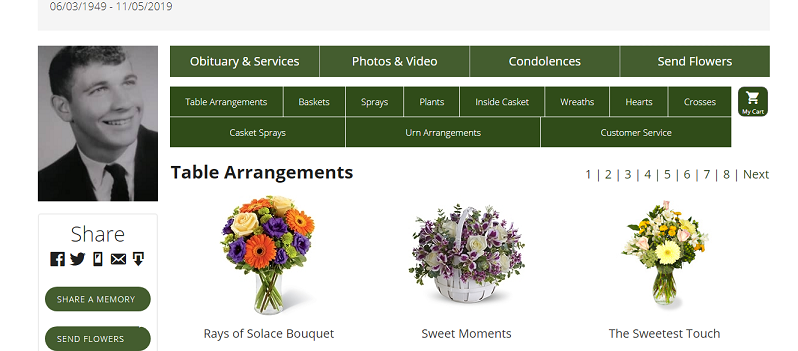 Obituary Assitant is free and we can install this or set it up for you. You can contact us or FHW Solutions to get started with Obituary Assitant.
Flower Solution #2 - A Flower Storefront for Your Website
We have plugins and widgets that can add a flower storefront to your website in minutes.
The flower storefront is accessed by a 'Send Flowers" link which you add to your website. This 'Send Flowers' link can be added to your your main navigation, your homepage, or on your existing obituaries. When the link is clicked, a flower storefront opens up that is comppletely embedded into your website's look and feel. Visitors never leave your website to buy flowers.
See Devlin Funeral Home Flower Storefront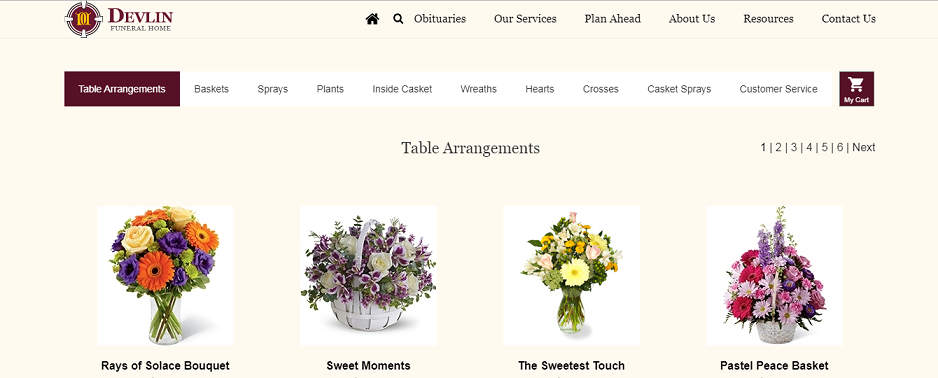 See Pensacola Memorial Gardens Flower Storefront

See Hans Funeral Home Flower Storefront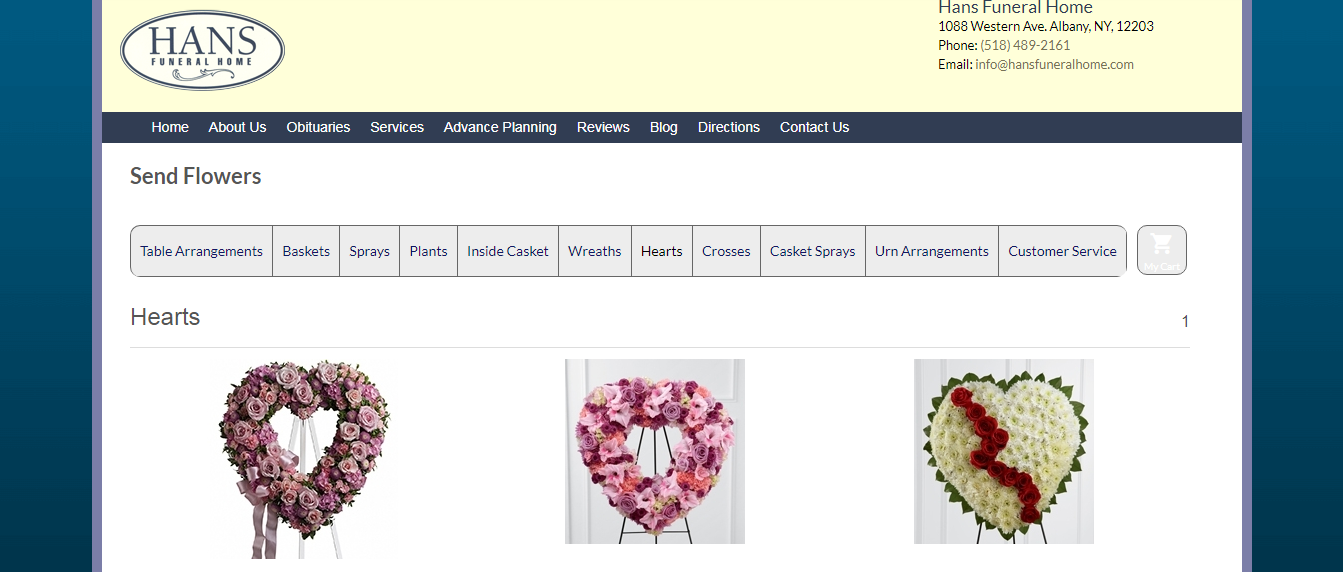 Adding a flower storefront to your funeral home's website makes it easy for your visitors to send flowers they need to send. Without a flower options, your visitors often have to hit the back button, go back to Google and figure out which florist to use to send flowers to your funeral home. You can choose the florist making the delivery through your flower storefront and you can choose more than one florist to preserve existing relationships you have with your local florists.
Florist One will guide you through the installation, or if you prefer, we'd be happy to install this for you.
Flower Solution #3 - Link Solutions and a Landing Page
If you are not in need of obitauries or if you prefer not to have a flower storefront on your webste, you can still easily offer flowers. A link is added to your website that creates a flowers landing page for your funeral home.
See 'Waltons Funeal Home' Example.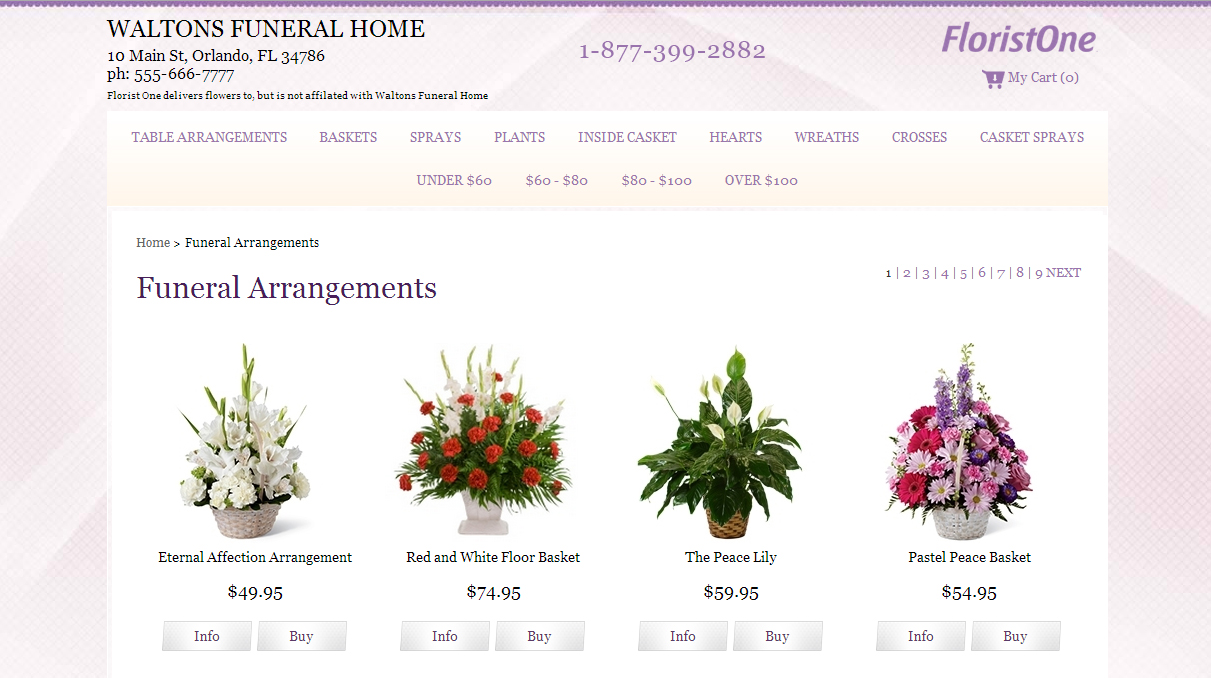 Visitors click a 'Send Flowers' link on a funeral home's website and they are taken to a florist landing page where they see the name of your funeral home along with your address information. The information for your funeral home appears on every page of our website and the address information is automatically populated at Checkout making it easy for your visitors to buy the flowers they need to send. This link can be added to your website in minutes and again, you can choose the local florists making the delivery.
We understand it can be difficult to understand which is the best solution for you. That's our job and we'are happy to help you.
Give us a call at 1-800-631-6218 or email us.
We'll answer your questions and find the flower solution that is right for you. We look forward helping you create a new and easy revenue stream for your funeral home while helping your website visitors send flowers they need to send.