How It Works
The Florist One® API can be used to sell florist-delivered flowers on any website or application by allowing you to create a fully customizable white-label storefront. The storefront to sell flowers can appear inside a Facebook application, a dating website, a funeral home website or even in a mobile application.
A Series of Internet Calls
Your website (or application) communicates with us through a series of 'calls' over the internet. These calls can be explained further from a technical standpoint, but for the purpose of this explanation, we'll simply refer to them as calls. Calls can be made by any web programming language including among others PHP, ASP.NET and Java.
Your website make a series of calls to us which will enable you to display products, to manage your shopping cart, and to also send us the order when it has been completed by your visitor.
Display Products
Your website makes a call to 'Get Products' which will return information about flower items available for sale. Information for each item will include the name of the item, the price, a description of the flowers, and an image url used to display the flowers. This information returned from "Get Products" is used to display flowers on your website and create your own fully customizable storefront.
The product information retreived is used to display a group of products (or categories of products), for example, "Love and Romance" products.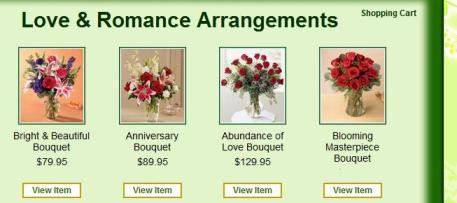 The product information retreived is also used to display individual products in detail.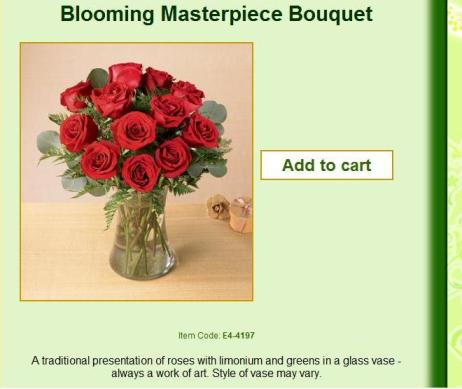 The 'look and feel' is totally customizable by you. In the above images, a certain type of 'look and feel' is shown. By 'look and feel' we mean: the headings are of a certain type, a particualar type and size of font is used, and the products and other information is arranged in a cetain way.
This 'look and feel' is totally customizable by you. Any type of HTML, headings, colors, fonts, layouts, and arrangement can be used to display your storefront. We give you product information, you create a display that matches your website.
Shopping Cart and Checkout
Visitors browse your flowers and add flower items to their shopping cart. You can use your own shopping cart or you can use a series of calls on our API that help you create and manage a shopping cart for you.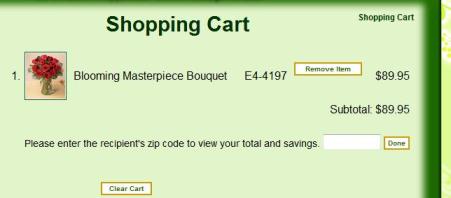 Your visitors then 'Checkout' on your website. The checkout process captures information about the order including information about the sender, the recipient, the items purchased, and the payment.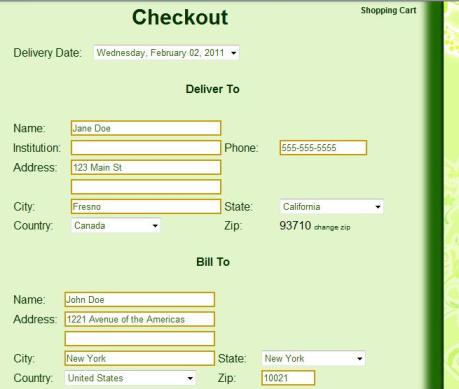 Once again, the 'look and feel' of the Shopping Cart and the Checkout is totally customizable by you - the HTML, headings, colors, fonts, layouts, and arrangement can match your website.
Placing the Order
When the visitor has completed the purchase on your Checkout process, the order information is passed to us securely in a 'Place Order' call. If you choose to use your own merchant account, you can place the order with us without passing us the senders payment information.
We receive the order in real-time from your storefront and begin fulfillment through a network of over 15,000 local FTD florists. We handle every aspect of Customer Service and order fulfillment and you receive a 20% commission on the sale.
How Long Does It Take to Setup?
The Florist One® API is free to use. Our application can be configured in as little as 40 hours of development time by an experienced developer - a less familiar developer might take 80 hours to configure our application. More time can be spent on customization, but a fully functioning application can be built in as little as 40 hours.