Sell Flowers on Funeral Home Websites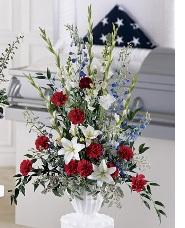 Many visitors to your funeral home's website come specifically to send flowers to a funeral service. Many funeral websites have no flower offering at all, or do not make it easy for a visitor to send flowers. When no flower offering is found on your website, the visitor hits the 'Back Button' and continues on their search to send the flowers they need to send.
The Florist One® software application can be used to create a fully customizable storefront to offer funeral flowers directly on your funeral home's website. Your funeral home earns a commission of 20% on every sale through your storefront. Flowers are delivered by a network of over 15,000 local FTD florists - you can even choose which local florist you want to deliver to your funeral home. Your website visitor never has to leave to purchase the flowers they want to send.
See how a funeral home such as Garden of Memories can offer flowers directly from its own website using the Florist One software. The Florist One application also allows Garden of Memories to specify which local florist they want making the flower delivery.
Offer Flowers on Online Obituaries
For providers of online obituary systems (also called online memorials and online tributes), the Florist One® API allows for flower buying to be directly incorporated in an obituary. While viewing the online obituary, the website visitor can select and purchases flowers from a storefront built inside the obituary system. The image of the decedent can be displayed right through the checkout process, service information can be pre-populated, and the entire transaction takes place within the online obituary system.
Compare the three following examples of how flowers can be implemented on obituary systems and online tributes.
Example 1 by Frontrunner Professional
Example 2 by Aldor Systems
Example 3 by Funeral Director's Resource Inc.
These three examples show the flexibility of the Florist One® application in terms of integration into different programming environements and different front end look and feels.
The 20% commission paid on the sale of flowers can be split between the provider of the online obituary and the funeral home. This allows for providers of online obituary systems to create a new and easy income stream for their software services and their clients. An online obituary system with a built-in storefront to sell flowers has a competitive advantage and is a stronger offering to potential users.
Funeral Home Website Designers Can Add Flowers
Website designers for funeral homes and the funeral industry can also use the Florist One® API to create storefronts that offer flowers inside the websites they build. Revenue earned from sales of flowers can be split between web designers and individual funeral homes. As with online obituary systems, websites created with flower sales built in have a strong competitive advantage.
Website visitors to funeral home and online obituaries are very often looking to send flowers. The Florist One® API allows any funeral home or online obituary to create a storefront that sells flowers directly - the visitor never has to leave. New and highly profitable revenue streams can be created very easily with the Florist One® API while offering visitors the flowers they are looking to send.